Faucet Repair Service
Call Downing Plumbing for all your faucet repairs/replacements!
You probably take for granted that any faucet you have in and out of your home will always work. You turn water on and expect the faucet to flow. What's your first reaction when your faucet doesn''t work or starts to rust or leak?
You may try to fix it yourself, which takes time, money, and knowledge. Or, you can call Downing Plumbing. Our licensed technicians are experts at faucet repair.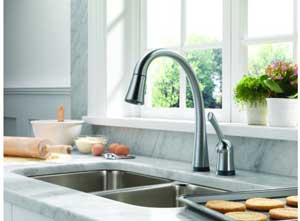 If necessary, we can replace the faucet if the repair won't solve the problem. No matter what type of faucet you have, Downing Plumbing can determine if a repair is in order, or if necessary, install a faucet for your kitchen, bathroom, or the exterior of your house.
Faucet Installation
You have many choices when deciding what type of faucet you want for your home. We offer and install ceramic disc faucets. Disc faucets are the newest development in faucet technology. These faucets are high quality, very reliable, and repairs are few and far between. With ceramic disc faucets you can eliminate the need for replacing rubber washers that frequently deteriorate.
Our knowledgeable plumbers can eliminate your concerns and guessing, ensuring you get a quality great performing faucet. Best of all is the fact that you will have a maintenance free faucet for years to come. Downing Plumbing has many faucets to choose from. Ask us how to find your perfect style, finish, and features!
Faucet Repairs
Downing Plumbing is ready to fix your leaky faucet, dripping faucet, or stripped faucet. The licensed plumbers at Downing Plumbing in Merrillville, can fix or replace any faucet. Whether it's a seal, rusting handle or a number of other issues, we can resolve the problem. Don't ignore the constant, irritating drips or even small water leaks which may appear under a sink or from a faucet inside or outside of your home. A small leak from your faucet can cause extensive damage to your home. So, don't wait to replace or repair! Some common problems caused by leaking faucets (or toilets) are: an increased water bill, cabinet damage, soil erosion, or even foundation problems.
Call us today for all of your plumbing needs or schedule an appointment online.