Get Help from the Pump Experts at Downing Plumbing!
At Downing Plumbing, we specialize in maintenance, replacement, and repair of all types of pumps. Let us provide you with the knowledge and expertise to tackle any plumbing problem, large or small.
Sewage Ejector Pump
At Downing Plumbing, our plumbers install and repair sewage ejector pumps in homes and businesses for NW Indiana residents' waste water elimination needs. Our plumbers understand the need for an efficient sewage and plumbing system and will work hard to repair and install long-lasting sewage ejector pumps for your home.
What is a Sewage Ejector Pump?
Sewage ejector pumps channel waste water and sewage from your home into a septic tank or city sewer to keep your plumbing system working efficiently. An old, failing, or broken unit can become a very serious problem as well as a potential health hazard, so don't wait to call a plumber if you suspect problems with your sewage ejector pump.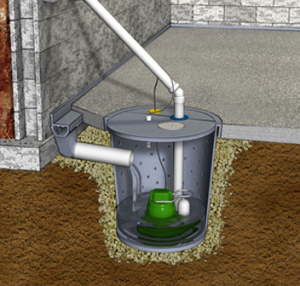 Sump Pumps
If you've ever experienced a flooded basement, you already know how much damage it can cause. Even a small amount of water leaking into your basement can cause thousands of dollars in damage, not to mention hazardous mold and mildew growth. If your basement is at risk of flooding, a sump pump is generally considered to be the best safeguard.
Though sump pumps are generally installed to prevent basement flooding, they can also be used to remove dampness by lowering the water table under the foundation. At Downing Plumbing, our sump pump installation specialists will determine your needs and perform your installation efficiently and professionally, so you can rest assured that your sump pump will work properly to protect your home. Whether you have already suffered the misfortune of basement flooding or just want to make sure you never do, we can help.
Battery Backup Sump Pump Systems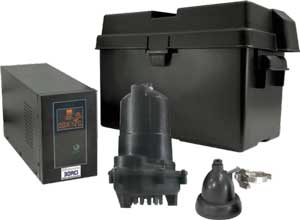 With a battery backup sump pump system you can protect your home from the three most common causes of primary sump pump failure including:
Primary Sump Pump Failure — when the primary pump fails for any reason, the battery backup system automatically kicks in protecting your home from flooding.
Electrical Outage — if there is a loss of power to the primary pump, the battery backup system activates using it's own separate power source.
Primary Discharge Line Failure — when installed into a separate discharge line, the battery backup system provides protection against a clogged, frozen, or broken primary discharge line.
Call us today for all of your sump pump and ejector pump needs or schedule an appointment online.