Toilet Repair & Installation Services
You may not give much thought to your plumbing until something goes wrong with it. This is especially true when it comes to the toilet. At Downing Plumbing, we have years of experience helping homeowners with toilet installation and repair. Thanks to our industry expertise, we can make suggestions for when a replacement is in order, or we can save you money by offering efficient toilet repair.
Why Isn't your Toilet Working?
The signs you are in need of toilet repair are unmistakable. Many frustrated homeowners are familiar with the sight of a clog, the sound of a running toilet that won't stop and the unfortunate smell of plumbing that is not working properly. The root of the problem, however, may require the help of a professional.
There are several components on a toilet that can fail, such as:
Refill and siphoning tubes
The stopper
The float
Sometimes, all it takes is a quick fix to get your toilet up and running again. In other instances, new toilet installation may be in order.
Time for an Toilet Upgrade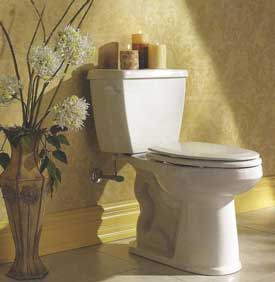 Depending on how old your toilet is, you may benefit from taking advantage of a newer model. Advances in technology mean less water is used with every flush, which homeowners will see on the utility bill every month. Additionally, conserving water helps to preserve precious resources, which is why eco-friendly toilets are becoming more and more popular. One of our skilled technicians can help you decide if new toilet installation is right for you and help you pick out the most appropriate model.
Allow Us to Help Today
As part of a family-owned business, our staff at Downing Plumbing is committed to doing the job right the first time and addressing all of your concerns. If you are in need of toilet repair or want to install a new appliance, one of our specialists can help.
Call us today for all of your plumbing needs or schedule an appointment online.