Professional Water Heater Service
Water Heaters perform a vital function in every home and business, but the reality is that even the best water heater will eventually fail. Conventional tank style water heaters are under constant pressure, and as the heater ages it will become less efficient which leads to higher utility bills, inconsistent water temperature, and a longer recovery time. Not to worry though, because Downing Plumbing has been helping residents throughout NW Indiana and the South Suburbs with their water heater repair and replacement needs. Our team of highly skilled and trained plumbers will help you keep the hot water flowing.
Water Heater Repair
There are many signs that can indicate a problem with your water heater. The most obvious is a lack of water. But if you are not getting enough hot water or if the water won't get hot enough, there could also be a problem with your water heater. Other warning signs are water that smells like rotten eggs, rust colored water, water leaking around the water heater, and unusual sounds, such as rumbling, popping, and high-pitched whining. If you and your family are suffering from any of these problems, give us a call. We can quickly assess and diagnose the problem.
Once the cause of the water heater problem is determined, our certified plumbing technicians will explain the water heater repair cost and water heater replacement options. That way, you will know your options and the pricing before work starts and can make an informed decision on the best course of action for your home. Our plumbers can then perform the water heater repair, so that your life can get back to normal as soon as possible.
Water Heater Installation
When it comes to water heater replacements, Downing Plumbing has the expertise you need. We can install your electric or gas water heater efficiently and accurately. Our plumbing experts are equipped to handle water heaters of all sizes and models.
If you're not sure whether to choose an electric, gas, or even tankless water heater, we can make a recommendation based on your specific home environment and budget. We can also help you decide how big or small a water heater is right for your home and your family. Choosing the right size heater is a vital part of running an energy efficient and happy home.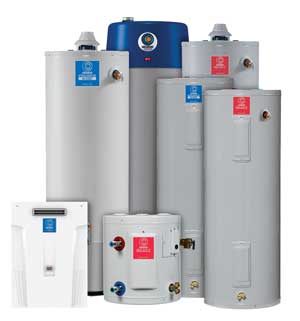 Water heater installation is often more complicated than people imagine. It requires quite a few steps, tools, and materials, not to mention the skill to do plumbing and electrical work. While some homeowners are excited to try and install their own water heaters, we don't blame anyone for wanting to leave the job to professionals like Downing Plumbing.
Conventional Tank Water Heaters
Most water heaters are tank water heaters, which keep a tank full of hot water in your home at all times. Most household models hold between 20 and 100 gallons of water. When hot water is required the water is circulated to the open faucet. Most conventional tanks utilize electric, natural gas, or propane as an energy source to heat the water.
Electric Water Heaters
The typical electric water heater is wired to a 220-volt circuit. To heat the water, the current typically passes through two electrical-resistance heating elements: one at the middle of the tank and one at the bottom. Power is delivered to each element through a thermostat.
Gas-Fired Water Heaters
An alternative to the electric water heater is the gas-fired heater, which typically utilizes natural gas or propane. Instead of electrical-resistance elements, a gas-fired heater has a burner that is fed gas through a control valve and a thermostat switch. Since gas-fired heaters heat the tank, which in turn heats the water, there will be more wear and tear on the tank than with electric heat.
Tankless Water Heaters
A tankless water heater provides hot water as needed, saving energy and money. Tankless heaters are designed to heat water directly without the use of a tank and are more efficient than conventional water heaters. The primary energy sources for tankless heaters are natural gas or propane.